A powerful link indeed
NEO CITY: MANILA "The Link" – the name of their tour is not just a simple title for a tour. It is a representation of the connected dreams, passion, and love of NCT 127 to their fans. This link made the night of September 4 be filled with a beautiful pearl neo champagne ocean.
NCT 127 made their PH Czennies' dreams come true by finally having their first ever solo concert in the country. Brought to you by PULP Live World, a loud and wonderful three-hour concert happened at the Mall of Asia Arena.
Starting with the famous puku puku paw paw, NCT 127 performed their song "Kick It," followed by "Lemonade" and "Simon Says". The energy that night was so high that the screams were really piercing through one's ears.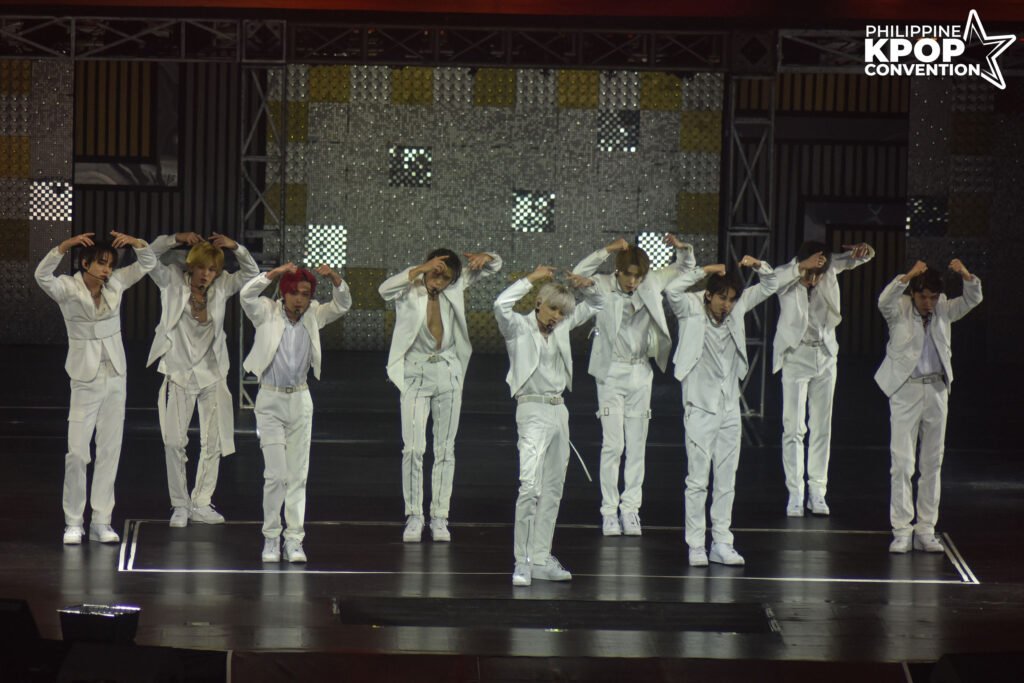 The Philippines is known to be the loudest crowd during concerts. But little did we know that it could get even louder. Even Vernon Go tweeted that The Link in Manila was the loudest KPOP concert they have produced.
To give back to the loud cheers they received, NCT 127 also greeted the fans enthusiastically. Not only that, they also made sure that everyone is safe especially the ones in the standing area. They reminded the fans not to push each other and to just enjoy the night.
They continued to perform their songs "Elevator," "Dreamer," and "Love Song."
Solo and Unit Stages
In between group performances, NCT 127 also prepared special solo and unit stages. Through this, they were able to showcase their individual talents from dancing to singing to rapping.
Taeil started off these individual stages by performing "Another World." This was followed by "Love Sign" performed by Taeil and Haechan. Then, it smoothly transitioned into Haechan's dance break.
Before heading back to group performances, Taeyong, Johnny, Yuta, and Jaehyun performed "Run Back 2 U (Bassbot) which reminded us of their SM Rookies days.
The crowd sang along with them as they perform "Highway to Heaven," followed by "Breakfast".
Going back to their solo stages, Mark performed "Vibration". Showcasing a hot performance, Taeyong performed "Moonlight". After that, Mark and Taeyong proved that they are indeed all-rounders by performing "Himalaya".
Continuing the solo stages, Jungwoo graced the stage with his dance performance of the remix version of "Lipstick". The fans definitely focused even more on the next performance, "Focus." But of course, Johnny didn't let the fans down. He went all out with his solo dance number.
After those burning stages, Jaehyun showcased his lovely voice by performing "Lost". It's truly a great way to make the fans calm their feels first.
Going with the mood, the boys serenaded the crowd as they perform "The Rainy Night", "White Night", and "Back 2 U". It continued until Doyoung's solo stage of "The Reason Why It's Favorite".
After those heart-warming performances, it was time to bring that noize back. NCT 127 then performed "Favorite", "Bring the Noize" and of course the crowd-favorite, "Love on the Floor".
Closing the solo stages, Yuta showcased his butterfly-like moves with this solo performance of "Butterfly."
A thank you letter
A VCR played wherein the members of NCT 127 wrote down a letter to thank their fans for supporting them. They mentioned that without their fans, they wouldn't be where they are right now. That's why they are so thankful for the unwavering support. They also hope that they will meet their fans again in the future through concerts like this.
Returning the support they received, NCT 127 went on stage with "Paradise", while throwing signed balls around the stage. It was then followed by "Touch" and "Love Me Know". Of course, they also performed their iconic songs "Cherry Bomb" and "Sticker."
A concert is not complete without encore stages! They came back on stage to perform "Dreams Come True". Then, they delivered their final messages to the fans who went to see them in this concert.
It was definitely a fun night both for NCT 127 and PH NCTzens. The boys shared their sadness of having only one day of concert in the Philippines. But, they promised to be back hoping for a two or three day concert.
NCT 127 ended the concert with "Promise You".
NEO CITY: MANILA – The Link Tour is a proof that dreams do really come true. It was indeed a memorable night. We can't wait to see more of them. In the mean time, NCT 127 is scheduled to have their comeback on September 16 with "질주 (2 Baddies) – The 4th Album".
Thank you so much PULP Live World for the media invitation.
Event covered by: Ruth & Faye | Check out more HQ photos on our Facebook Page.