Happy Hallyu Day is probably one of the most-awaited events by Hallyu fans here in the Philippines. Presented by The Philippine Kpop Convention Inc., in partnership with the Korean Cultural Center in the Philippines (KCC) and Korea Foundation for International Culture Exchange (KOFICE), a lot of K-enthusiasts come and gather to meet their fellow fans, watch cover groups, buy merchandises, and more. Since Happy Hallyu Day 4 will be held online, let's reminisce some fun things that happened during Happy Hallyu Days 1, 2, and 3.
Full of KPOP/ KDRAMA merchandise
This is one of the reasons why a lot of fans love to attend this kind of event, the merchandises. A lot of PH fan clubs and stores gather there to sell official and unofficial merchandises. And the good thing here is that you no longer need to pay shipping fees because you can buy it directly.
Fun games, prizes, and lots of giveaways
A gathering won't be complete without games and giveaways! Remember when fans try to copy the poster flashed on the screen? It was definitely fun to watch especially when they have to copy a funny poster. A lot of fans are really on-the-go in order to win some prizes!
Amazing cover groups
During events like this, a lot of KPOP cover groups showcase their talent. Cover groups nowadays pay attention to details. Not only do they pay attention with the choreography, they also give a lot of effort with their costumes or outfits.
Meet fellow fans / fanclubs
Fanclubs also have special segments during the event. It's either they have some giveaways or fan projects to do. Of course, it's exciting to meet your fellow fans, right? Especially when you spazz about your favorite artists.
South Korea travel tips
For those people who plan to visit South Korea, this segment during Happy Hallyu Day is really informative. Ms. Belle Yambao (Sparkling Magazine) gave some of her tips and places you should go to when you visit Korea.
Korean skin care tips
During Happy Hallyu Day 2, Raych Ramos (beauty vlogger and fangirl), shared her tips about the Korean Skin Care. A lot of attendees actually had the chance to ask some questions to Raych regarding her topic.
Learning Korean
Most (if not all) K-enthusiasts want to learn how to read, write, and speak Korean so that they can understand their idols whenever they have lives. Or even when they want to watch a variety show with no English subtitles yet. Ms. Cami taught some useful Korean words and phrases. She also shared how she learned Korean on her own and encouraged the attendees to study Korean.
Life-size standees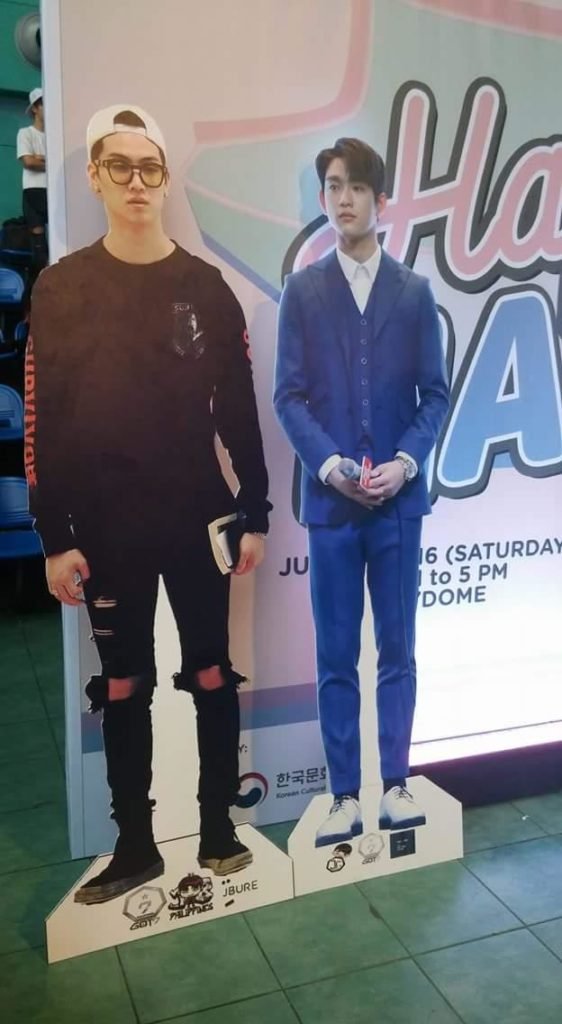 If we can't meet our idols, then a life-size standee will somehow do. During Happy Hallyu Day 1, there is a special place for the standees where the fans can have a picture with. These standees allowed the fans to experience what it's like to be beside their idols.
Special Guests
Of course, who will forget the amazing performance of SB19? SB19 may be a Filipino group but they are trained by a Korean company. They performed their hit song "Go Up".
Random Play Dance
Filipino fans are very talented! And they showed it through the Random Play Dance. The whole SM Skydome danced to old songs until the latest ones.
Free Event
Since the first Happy Hallyu Day in 2016, the event has always been free of admission to cater to all K-enthusiasts! This 2020, Happy Hallyu Day 4 will be held online which will reach more people!
So make sure to join the Happy Hallyu Day 4: Virtual Party on August 22 and 29, 2020. See you there!